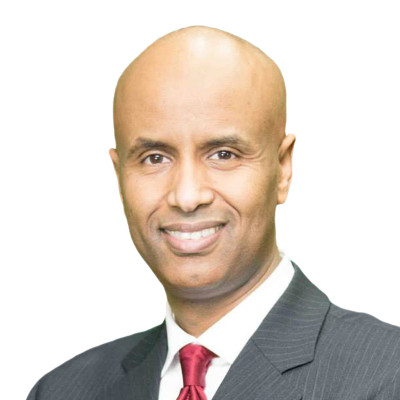 Minister
Ahmed D. Hussen
Minister of Immigration, Refugees and Citizenship
York South—Weston, Ontario
Lawyer, social activist and the first Somali-Canadian MP
National President of the Canadian Somali Congress and a member of the task force for modernizing income security for adults in the Toronto City Summit Alliance, Ahmed Hussen worked at Queen's Park for Dalton McGuinty in the early 2000s but this election was his first campaign as a candidate. He made civic engagement a focus of his career.
Born and raised in Somalia before coming to Canada in 1993, Hussen quickly became involved in his new neighbourhood of Regent Park as a social activist and co-founded the Regent Park Community Council. He ousted incumbent NDP MP Mike Sullivan to become the first Somali-Canadian Member of Parliament.
On January 10, 2017 Hussen was named as Canada's new immigration minister.
Click here to read his mandate letter.
---
Current Roles and Responsibilities
Minister of Immigration, Refugees and Citizenship
Co-Chair, 416 Caucus
Vice-Chair, Canada-Africa Parliamentary Association
---
Current Cabinet Committee Membership
Member, Committee on Canada in the World and Public Security
Member, Committee on Canada-United States Relations
Member, Committee on Diversity and Inclusion
---
Education
University of Ottawa - Juris Doctor of Laws
York University - Bachelor of Arts (history)
---
Private Career
Director, Global Enrichment Foundation.
Special Assistant, Intergovernmental Affairs, Ontario Premier Dalton McGuinty.
National President, Canadian Somali Council.
1997: President, Regent Park Community Council.
---
Electoral History
| | |
| --- | --- |
| First elected: | 2015, York South-Weston |
---
Off the Hill
Hussen was a track and field star at his Hamilton high school before moving to Toronto. He worked at a gas station in Mississauga, an hour commute from his home, to scrape together enough money for tuition at York University.
He is fluent in English, Somali and Swahili, has a law degree from the University of Ottawa and has been recognized for his contributions as a community leader.
---
Family
| | |
| --- | --- |
| Marital Status: | Married |
| Spouse: | Abyan |
| Children: | |
---
"I have a lot to contribute to Canada, and I'm a mainstream guy, I'm not limited by my community. Everyone has a heritage, but we have a shared citizenship."
---
In the News
---
Room / Building
706, Justice
---
Ottawa Phone
---
Constituency Phone
---
Date of Birth
1976
---
Place of Birth
Somalia
---
Gender
Male
---
Religion
Muslim
---
Ethnicity
Black
---
Languages
English, Somali, Swahili
---
46%
2015 vote share
---
Chief of Staff
Ali Salam
613-954-1064

---
Staff
Bernie Derible
Director of Issues Management
613-954-1064
Bernie.Derible@cic.gc.ca
Nathalie Guay
Senior Special Assistant
613-954-1064

Sacha Atherly
Policy Advisor
613-954-1064

Lisa Cheskes
Director of Case Management
613-954-1064

Hursh Jaswal
Special Assistant
613-954-1064

Kyle Nickolson
Director of Policy
613-954-1064

Zubair Patel
Director of Operations and Outreach
613-954-1064

Olga Radchenko
Special Assistant
613-954-1064

Brandan Rowe
Parliament Secretary Assistant
613-954-1064

Tia Tariq
Senior Advisor
613-954-1064

---
Last modified August 3, 2017
Notice a mistake or something missing? Let us know