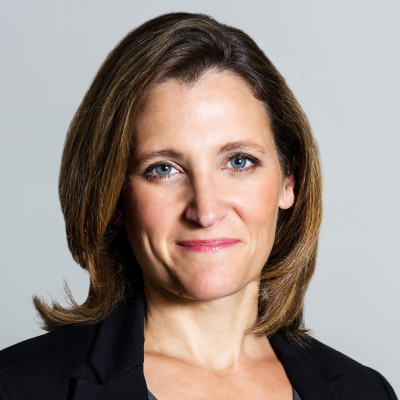 Minister
Chrystia Freeland
University—Rosedale, Ontario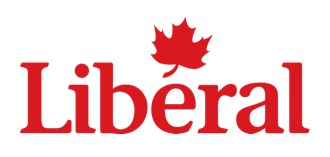 Deputy Prime Minister, Minister of Finance
Former journalist and author, deputy PM and first woman minister of finance
First elected to the House of Commons in a 2013 Toronto Centre by-election, Chrystia Freeland ran and won in the riding of University—Rosedale in the 2015, 2019, and 2021 federal elections.
Prior to the 2015 election, she served as co-chair of the Liberal Party's economic advisory council. A Harvard graduate and Rhodes Scholar, she forged a career as a journalist with the Financial Times, the Washington Post, the Economist, the Globe and Mail, and Thomson Reuters. Her authored books include "Sale of a Century: The Inside Story of the Second Russian Revolution," and "Plutocrats: The Rise of the New Global Super-Rich and the Fall of Everyone Else."
As minister of foreign affairs Freeland played a pivotal role in the renegotiation of the NAFTA agreement. On November 20, 2019, she was appointed deputy prime minister and minister of intergovernmental affairs. On August 18, 2020 Freeland was sworn in as the first female federal minister of finance following the resignation of Bill Morneau. She was re-appointed deputy prime minister and minister of finance in the October 26, 2021 cabinet announcement.
Off the Hill
Freeland speaks five languages: English, French, Ukrainian, Russian and Italian. She participated in a student exchange in Ukraine during the Communist era, acting as a fixer and translator for a New York Times reporter. Her grandparents fled Ukraine during the Second World War but imprinted a strong sense of Ukrainian identity on her.
Freeland and her husband, journalist Graham Bowley, both grew up on farms.
Current Roles and Responsibilities
Deputy Prime Minister (appointed Nov. 20, 2019)
Minister of Finance (appointed Aug. 18, 2020)
Committee Roles During the 41st Parliament
| Committee | Role | From | To |
| --- | --- | --- | --- |
| International Trade | Vice-Chair | 2014 | 2015 |
Previous Parliamentary Roles
2019-2020: Minister of Intergovernmental Affairs
2017-2019: Minister of Foreign Affairs
2015-2017: Minister of International Trade
Federal Electoral History
First elected:
2013, University—Rosedale (By-election), Toronto Centre
Re-elected:

2015, University—Rosedale
2019, University—Rosedale
2021, University—Rosedale
Vote Percentage by Party
University—Rosedale
Education
Oxford University - Master of Arts (Slavic Studies)
Harvard University - Bachelor of Arts (History and Literature)
Private Career
2010-2013: Journalist and Editor, Thomson Reuters
2001-2010: Managing Editor, The Financial Times
1999-2001: Deputy Editor, The Globe and Mail
Reporter
Date of Birth
2 August 1968
Place of Birth
Peace River, AB, Canada
Languages
English, Finnish, Italian, Russian, Ukrainian
Family
| | |
| --- | --- |
| Marital Status: | Married |
| Spouse: | Graham Bowley |
| Spouse Occupation: | Journalist |
| Children: | |
| Relations: | Great Uncle: Ged Baldwin, Progressive MP for Peace River from 1958 to 1980 |
Office Staff
Jessica Eritou
Communications Advisor
Malcolm McEachern
Senior Advisor (Atlantic)
Constituency Contacts
Address:
Toronto
344 Bloor Street West Suite 510 Toronto, Ontario M5S 3A7
Phone:
Fax:
416-928-2377
The real challenge today I think for our country is for our country to understand that we are facing such big issues in the world today that we really have to face them as Team Canada.
November 20, 2019
Toronto Star